Selena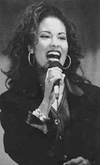 1971-1995
Singer
"Selena was not merely forging an exceptional career, she was defining a new genre as uniquely American as Delta blues or New Orleans jazz." — Cameron Randle, recording industry executive.
Selena was a popular Tejano singer who won a Grammy Award for her album Selena Live and recorded numerous albums during her brief career. By the age of 19, she was a millionaire; by the age of 21, she could draw crowds of 20,000 at the fairgrounds at Pasadena, Texas. Music critics proclaimed she would be the next Madonna, i.e. a mega-star of music and movies. Tragically, however, Selena's career was cut short when she was murdered by the president of her fan club at age 23.
Selena and her band performed Tejano music-Mexican ranchera style music mixed sounds owing influence to pop, country and western, and Caribbean music. Tejano traditionally meant music by Texans of Mexican descent. But Selena, among others, modernized the traditional accordion-based Tejano or Tex-Mex music with country twangs, techno-pop beats, dance mixes, and international influences. More than 70 radio stations playing the uniquely Latino-styled tunes form a corridor from south Texas through California.
Selena Quintanilla was born April 16, 1971, in Lake Jackson, Texas, a small industrial town near Houston. Her father Abraham Quintanilla, Jr. worked as a shipping clerk at the Dow Chemical plant. Abraham and his wife Marcela had three children: Abraham III, Suzette, and Selena, the youngest.
Seems Destined for Stardom
In his own youth, Quintanilla had performed as a vocalist with Los Dinos ("the boys") a popular South Texas band. When Quintanilla heard his daughter sing at six years of age, he knew Selena was destined for a musical career and encouraged the musical talents that she revealed. In a 1995 People article, Quintanilla affirmed that Selena's "timing and [her] pitch were perfect. I could see it from day one."
Selena practiced with the music she enjoyed, from the soul music of Little Anthony and the Imperials to country and western music and even the stylized R&B of Michael Jackson. Through her love of all different kinds of music and early jam sessions with her brother on bass and her sister on drums, Selena demonstrated her passion for the musical arts.
After years of working for others, Abraham Quintanilla opened his own Tex-Mex restaurant in Lake Jackson. There Selena first performed in public with her brother and sister as members of her band. But the economic recession of the early 1980s delivered a knockout blow that closed the family restaurant, forcing them to leave their home and sell all their belongings. Selena's talent would save them.
Takes Family Band on the Road
While the rest of the Quintanilla clan relocated in Corpus Christi, Selena and her siblings hit the road, performing throughout southern Texas as Selena y Los Dinos ("Selena and the Boys"). They played at weddings and in cantinas and honky-tonks to very small audiences — oftentimes less than ten people. In a dilapidated van with one foldout bed in the back, the troupe traveled and performed. In 1979, eight-year-old Selena recorded her first tune — a country song sung in Spanish; her Tex-Mex band was in full swing by 1980.
Selena left school in the eighth grade to spend more time travelling with the band and earning money for her family, but she eventually completed her high school equivalency requirements through a correspondence course. The band started playing larger venues, including ballrooms. They also recorded nearly one dozen albums for a small regional label.
In 1987, Selena— then 15 years old — won Tejano Music Awards for best female vocalist and performer of the year. This was the big break that Selena and the band had worked for years to achieve. Two years later, the Latin division of the EMI Records Group signed the band to a record deal.
Though Selena was the rising star of Hispanic pop, she was still very much a Texan. She could not speak Spanish and learned the Spanish lyrics for her lively songs and romantic ballads phonetically, coached by her brother, who wrote the songs. At the advice of her father, turned manager, she began taking Spanish lessons in the early 1990s, so that she could project a more genuine Hispanic image during interviews on Spanish-language radio.
In 1992 Selena Quintanilla married the band's guitarist Chris Pérez. The union did not hamper Selena's sexy image. Rather, Selena became known as the "Tex-Mex Madonna" because of her sexy bustiers and provocative smiles on-stage, though off-stage she remained a wholesome, married woman who was devoted to her family.
Hires Fan Club President
Selena had repeatedly refused offers for fan clubs, keeping her career a family project, but a woman named Yolanda Saldivar expressed interest in founding and running Selena's fan club. She was an aunt of one of Selena's childhood friends, but beyond that she was a stranger to the singer. Saldivar lived near San Antonio, working as a registered nurse, and caring for three children abandoned by her brother. Despite Saldivar's remote connection to the Quintanillas, Selena and her family appointed Saldivar as the president of the Selena fan club, an unpaid position. In just four years, Selena's fan club attracted nine thousand members.
When speaking of her desire to work for Selena, Saldivar told the Dallas Morning News in 1994 that she became a devoted Selena fan after seeing a San Antonio concert in 1989. "Selena just inspired me — with her talent, her motivation. She gives her whole to you." The two developed a close friendship. Though Saldivar did not receive an official salary, Selena often bestowed the woman with gifts. Selena indulged Saldivar's penchant for spotted cows with cow-patterned rugs and phones; Saldivar reciprocated by transforming her apartment into a Selena shrine, laden with Selena photos and memorabilia, including a life-size cardboard pop-up of the singer.
Becomes Quick Success
Selena lost no time in the recording studio. She recorded among others,Ven Conmigo, Entre a Mi Mundo, and Baile Esta Cumbia, between 1990 and 1993. In 1993 Selena Live received a Grammy Award for best Mexican American album. Selena's 1994 album, Amor Prohibido — recipient of a Grammy nomination — sold six hundred thousand copies in the United States. The fourth single from the album, "Fotos y Recuerdos," reached the top ten on Billboard magazine's Latino charts.
By 1995, Selena's albums had sold a combined total of three million copies. Twice, she played to record crowds of sixty thousand at Houston's annual Livestock Show and Rodeo. Selena's "Bidi Bidi Bom Bom" won the singer a song of the year award at the Tejano Music Awards in early 1995. She also won five more of the fifteen awards presented at the 1995 Tejano Music Awards ceremonies, including best female entertainer; best female vocalist; album of the year; Tejano crossover song; and record of the year. An amazed Selena was quoted as saying in Time magazine, "Never in my dreams would I have thought I would become this big. I am still freaking out."
In 1994, Selena promoted Saldivar to a paid position as head of Selena Etc. Inc., a company devoted to overseeing two Selena boutiques/salons — one in Corpus Christi and one in San Antonio — and to marketing a line of Selena fashions to be sold in the boutiques as well as in other retail venues. But things began falling apart rapidly. First, fashion designer Martin Gomez quit, claiming that he could not work with Saldivar, who he accused of being "mean and manipulative." The problem escalated with reports of other lapses by Saldivar involving misuse of funds.
Meanwhile, fans were not receiving t-shirts and other Selena items that they had paid for, and money was disappearing from one of the salons. Selena and her father both confronted Saldivar about the reported abuses. Saldivar protested, claiming that she had documentation to prove her innocence and offered to show Selena the alleged papers.
Shooting Ends Life
Selena and Saldivar were supposed to meet alone at the Days Inn where Saldivar was staying. Instead Selena brought her husband; Saldivar proved not to have the papers she had claimed to possess. The next day Selena went to the Days Inn sometime before noon to talk with Saldivar. At 11:50 a.m., the Corpus Christi police received a 911 call of a shooting at the motel.

Police detailed that Saldivar met Selena at the door of her motel room with a .38-caliber revolver, shooting the singer in the back and shoulder. Selena staggered to the lobby before collapsing, though she remained conscious until paramedics arrived. Response teams rushed Selena to the hospital. Despite blood transfusions, Selena died a few hours after being shot, on March 31, 1995. Saldivar was charged with Selena's murder.

But the ordeal did not end with Selena's death. Saldivar holed up with the revolver in the cab of a pickup truck in the Days Inn parking lot. For hours she threatened to shoot herself while negotiating with police via a cellular car phone. As the news of Selena's murder spread, the singer's fans stood vigil at the Days Inn. Saldivar finally surrendered at 9:30 p.m.
Death Sparks Widespread Grief
In the wake of Selena's murder, grieving fans swamped the Quintanilla family with remembrances, including bouquets, rosaries, and votives. Condolences were sent to the Quintanillas by Julio Iglesias, Gloria Estefan, Madonna, and La Mafia, a well-known Hispanic singing group. Local radio stations devoted their programming to Selena's music, and more than one thousand Selena tapes and compact discs were sold at a frenzied pace during the next couple of weeks.
Fifteen hundred mourners attended a vigil for the singing star at the Bayfront Plaza and Convention Center prior to her funeral held at Corpus Christi's Memorial Coliseum, the arena where she had recorded her smash hit Selena Live. Ten thousand people flooded Corpus Christi to pass by Selena's coffin. In Los Angeles, four thousand people gathered at the Sports Arena Memorial to honor the slain singer. Mourners also gathered in San Antonio, the capital of Tejano music, at two separate sites.
Selena was killed just as her career was about to skyrocket in new directions. She had recorded six songs for an English-language album, her first with EMI's SBK division, making her only the third Hispanic performer to ever cross from the Latin division to the more mainstream part of the record company. The album was released as Dreaming of You. In addition, she had made her film debut as herself in Dos Mujeres, Un Camino, a Latino Television soap. In 1995, she continued to advance her film career as a mariachi singer in the film Don Juan DeMarco, and she had collaborated with former Talking Heads leader David Bryne on the song "God's Child" for the film Blue in the Face.
Cameron Randle, a recording industry executive specializing in Tex-Mex music, voiced his opinions of Selena in a retrospective of her career published in Entertainment Weekly in April of 1995. "Selena was not merely forging an exceptional career, she was defining a new genre as uniquely American as Delta blues or New Orleans jazz. There's every indication she would have been as enormously popular as [fellow Latinos] Jon Secada or Gloria Estefan. She was about to take center stage as the first Tejano performer to attempt a full-scale crossover, and she was robbed of that opportunity."
Selena's posthumous release Dreaming of You entered the Billboard 200 at the top of the chart — the second-highest chart debut after Michael Jackson's HIStory — and entered the Billboard Latin 50 at the same position. The jump into the top pop slot made Selena one the fastest selling female artists of all time, second only to Janet Jackson. An amazing 175,000 copies of the compact disc were sold on the first day of release. In addition to Dreaming of You, several other posthumous recording of Selena's work have been released, including Siempre Selena, Selena: The Original Motion Picture Soundtrack, and Selena Anthology.
Life Story Depicted in Top-Grossing Film
Selena's life story was depicted in the movie Selena, which starred award-winning actors Jennifer Lopez, Edward James Olmos, Constance Marie, Jacob Vargas, and Jackie Guerra. Directed by Gregory Nava, who also directed such memorable films as El Norte and Mi Familia/My Family, the movie received rave reviews from critics and moviegoers alike and was one of the highest- grossing films of 1997.
SELECTED DISCOGRAPHY
Mis Primeras Grabaciones, 1984 (later reissued in 1995).
Selena y los Dinos, 1984
Alpha, 1986.
Meñequito de Trapo, 1986.
And the Winner is..., 1987.
Preciosa, 1988.
Dulce Amor, 1988.
Selena. EMI/Capitol, 1989.
Personal Best. CBS Records, 1990.
16 Super Exitos. EMI/Capitol, 1990.
Ven Conmigo. EMI/Capitol, 1990.
Entre a Mi Mundo. EMI/Capitol, 1992.
Baile Esta Cumbia. EMI, 1992.
Mis Mejores Canciones — 17 Super Exitos. EMI, 1993.
Quiero. EMI, 1993.
Selena Live. EMI/Capitol, 1993.
12 Super Exitos. EMI/Capitol, 1994.
Amor Prohibido. EMI/Capitol, 1994.
Selena. Capitol/Cema Special Markets, 1994.
Dreaming of You. EMI Latin/EMI Records, 1995.
Siempre Selena. EMI Latin/Q Productions, 1996.
Selena: The Original Motion Picture Soundtrack. EMI Latin/Q Productions, 1997.
Selena Anthology. EMI Latin/Q Productions, 1998.
FURTHER READING
Books
Novas, Himilce, and Rosemary Silva. Remembering Selena. New York: St. Martin's Press, 1995.
Periodicals
Burr, Ramiro. "Selena Reigns at Tejano Awards." Billboard, February 25, 1995, p. 39.
Gwynne, S.C. "Death of a Rising Star." Time, April 10, 1995, p. 91.
Hewitt, Bill. "Before Her Time." People, April 17, 1995, pp. 48-53.
Jebens, Harley. "Rhythm Revolution (Rising Popularity of New Latin Music.)" Hispanic, December 31, 1994, p. 36.
Katz, Jesse. "For Barrio, Selena's Death Strikes a Poignant Chord." Los Angeles Times, April 2, 1995, pp. A1-A9.
Katz, Jesse, and Stephanie Simon. "Latin Music Star Selena Shot, Killed in Texas Hotel." Los Angeles Times, April 1, 1995, pp. A1, A21-A22.
La Prensa de San Antonio, June 11, 1993, p. B1.
La Prensa de San Antonio, November 19, 1993, p. B1.
La Prensa de San Antonio, April 29, 1994, p. B2.
Milloy, Ross E. "For Slain Singer's Father, Memories and Questions." New York Times, April 3, 1995, p. A15.
Sanz, Cynthia, and Betty Cortina. "After Selena." People, July 10, 1995, pp. 36-41.
Seidenberg, Robert. "Requiem for a Latin Star." Entertainment Weekly, April 14, 1995, p. 20.
Verhovek, Sam Howe. "Woman is Arrested in Killing of Singer." New York Times, April 2, 1995, p. A18.
Williams, Frank, and Enrique Lopetegui. "Mourning Selena." Los Angeles Times, April 3, 1995, pp. B1-B3.
Source: Notable Hispanic American Women, Book II, Gale, 1998. Biography Resource Center , Gale, 1999,